THINKING OF A CAREER IN THE BOATING INDUSTRY?
The marine industry is dynamic and diverse, with a wide range of pathways awaiting anyone with an interest in a career working around boats of all shapes and sizes, on or by some of the best waterways in the world.
The industry values people with a wide range of backgrounds and with diverse skills, and can offer the opportunity to work with local, national and international companies.
In such a dynamic industry there is no end to the opportunities available; from small craft construction to superyachts and beyond; from engines to sails; from boat building to fit out and repair and maintenance; from marine equipment to marine electronics; from sales and marketing to management; from marina services and management to marine tourism.
The BIA has developed a Marine Industry Careers Guide (below) to help identify the types of jobs or training available to help you pursue a career in the industry.
STARTING OUT
Use the Careers Guide to help you decide on a career path that will suit your interest and abilities, and talk to family, friends and your careers adviser (if you are still at school). Approach marine businesses in your area with your resumé and keep an eye on job vacancies in the industry press and on the internet.
If you are interested in a career in the marina sector, click here to find out about the pathway from marina attendant to marina manager, and training available from the Marina Industries Association (MIA).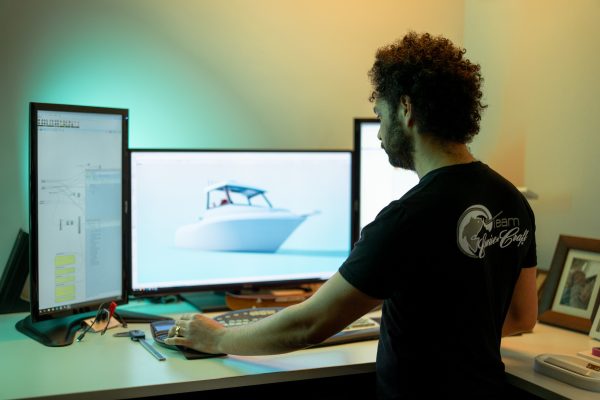 GUIDE TO CAREERS IN THE MARINE INDUSTRY
Boat Building
Production Manager
Naval Architect / Engineer
Materials & Parts Logistics Coordinator
Shipwright / Boat Builder
Laminator
Sheetmetal / Fabricator
Boilermaker / Welder
Spray Painter
Fit-Out, Refit & Repair
Project Manager / coordinator
Marine Mechanic
Marine Electrician
Electronics Technician / Fitter
Cabinetmaker
Marine Trimmer
Sailmaker
Rigger
Detailer / Repairer
Marina Services
Marina Manager
Dockmaster
Yard Hand
Receptionist / Administration
Customer Service
Marketing and Sales
Events Planner
Restaurant Staff
Chandlery
Slipway & Services
Slipway Manager
Travel Lift Operator
Shipwright
Painter / Antifouler
Commercial Diver
Detailer / repairer
Sheetmetal / Fabricator
Boiler Maker / Welder
Marine Mechanic
Rigger
Professional Services
Marine Surveyor
Health & Safety
Marketing Manager
IT Support Services
Accountant / Bookkeeper
Public Relations
Human Resources
Finance & Insurance
Boat Sales Tourism & Service
Dealer Principal
Boat & Yacht Broker
New / Used Boat Sales
Finance & Insurance
Service Manager
Spare Parts Interpreter
Administration / Reception
Shipwright
Marine Mechanic
Detailer / Repairer
Chandlery
Boat Operations
Master
Marine Engineer
Deckhand
Steward
Chef
Boating Education
Tourism
Tour Operator
Tour Guide
Fishing Guide
Scuba Diving Instructor
Charter Boat Operator
Houseboat Operator
Deckhand
Cleaner
HEAR WHAT TAFE NSW STUDENTS HAVE TO SAY ABOUT A JOB IN THE MARINE INDUSTRY