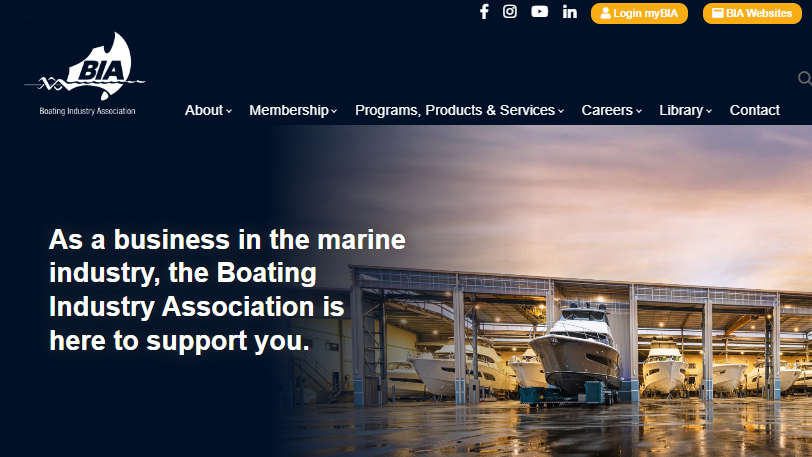 The Boating Industry Association Ltd (BIA) has launched a new website and video series to better showcase its priorities in support of a vibrant marine sector in Australia.
The BIA represents more than 640 marine businesses, serving as a unifying voice for boating in Australia, fostering growth and collaboration. As a not-for-profit organisation led by industry for industry, the BIA is dedicated to delivering tailored programs, products, and services supporting members to build their businesses.
The new look website highlights the work the BIA delivers on behalf of the industry, as well as the direct benefits to member businesses.
The video series includes the "Boating Industry Association – Our Mission" video outlining the programs, products and services the BIA delivers to support members. The "Promotion Skills and Jobs" video provides insight into BIA's focus on developing career pathways for the industry through initiatives such as the Boating Industry Academy and the industry-dedicated online jobs board Marinejobs.org.au. While the "Delivering Government Advocacy" video, is a summary of how BIA represents the interests of members to governments at all levels.
BIA CEO Andrew Scott said, "Our team is dedicated to supporting our members and the industry. We understand the challenges our members are facing with workforce development and resourcing, and are working across multiple areas to get better outcomes. Our longer-term plans include promoting Safe Marine Businesses which aims to assist members in their day-to-day operations whilst encouraging a culture of continuous improvement and excellence in the marine profession."
Telwater General Manager, Sam Heyes, highlighted the significance of the BIA's work, stating, "You never know when you might need to call upon support from experts within the industry, from understanding standards to advocating for improved waterway access and infrastructure with governments, the BIA's efforts on behalf of industry, typically involve hard work in the background for the benefit the wider industry."
The Boating Industry Association exists to support members to build thriving marine businesses. Learn more at www.bia.org.au or email the Membership Team on membership@bia.org.au
View the video series on the BIA YouTube channel here.