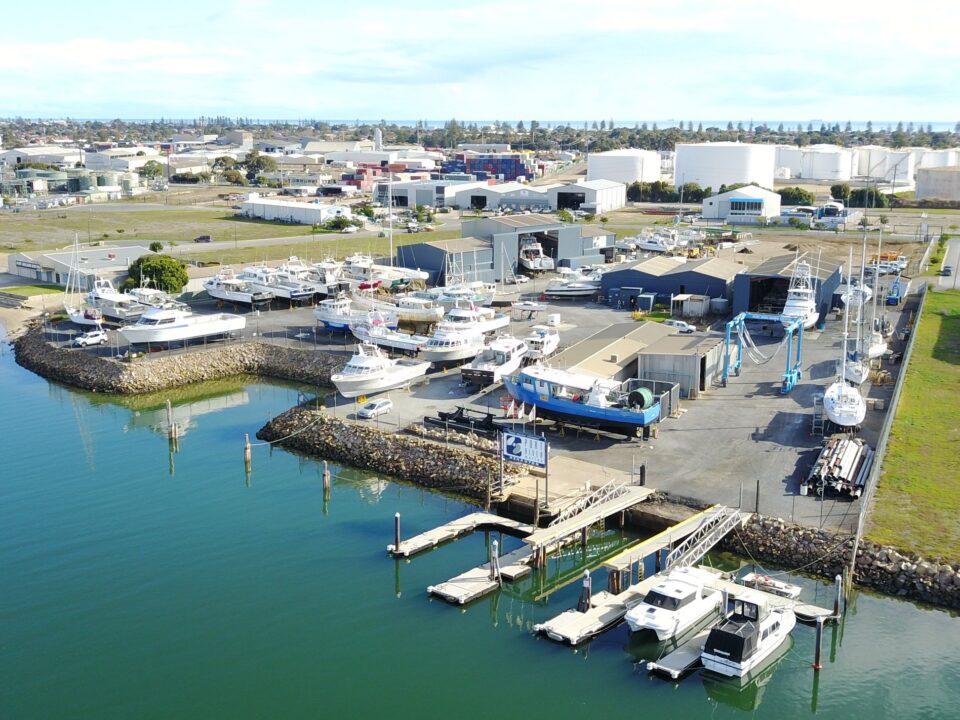 Leading BIA SA member Dockyard has announced the purchase of Port River Marine Services (PRMS) from the Theodore Family. PRMS and the Theodore Family have been part of the Dockyard precinct for over 40 years offering general marine services including repairs, painting, antifouling, polishing, electrical, mechanical and shipwright trades.
The Theodore Family will continue to be part of the precinct, James Theodore operating his boat sales and chandlery operations in a newly fitted out showroom on site, and Jim Theodore providing ongoing marine consultancy services to the Dockyard business.
Leading marine precincts within Australia and overseas operate as a central hub for trades and other marine businesses to be located within, and to have access to specialised infrastructure. Dockyard has made significant investment in the construction of the new 3 bay specialised mega shed and 150T Travel Lift to double the boat lifting capacity of the precinct.
The next stage of the Dockyard capital development program is the construction of dedicated marine trades facilities throughout the site. These facilities will be available for businesses supplying services to the Marine Industry which in turn will enhance the overall capacity and capability of the precinct. For boat owners this will deliver a healthy market place with a strong emphasis on providing broader choices and enhanced services.
A key focus for Dockyard will be to provide opportunities for the wider marine industry and to contribute to the on-going development of a marine-capable workforce in South Australia.
Dockyard has specialist staff, facilities, and project management capacity to deliver a cost competitive and quality service to both marine contractors, boat owners and customers.
Dockyard General Manager Jason Day has 16 year's experience at the site, and will oversee all operations across the business.
For any queries in relation to the precinct, please contact Jason Day on 0448 400 300 or admin@dockyard.com.au.