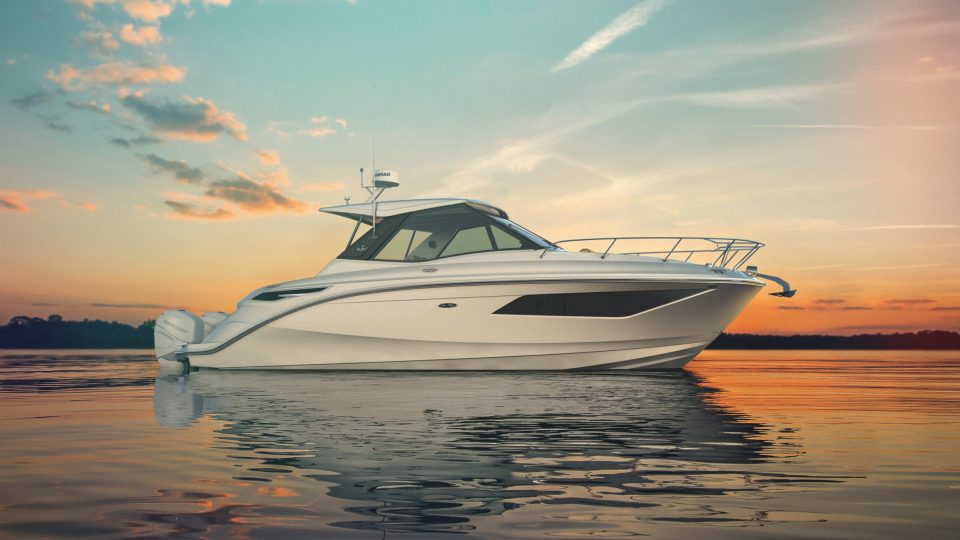 CLICK HERE TO ACCESS IMAGE & VIDEO LIBRARY
Australia's premier recreational boating lifestyle event is set to run from the 3 to 6 August 2023 at the ICC Sydney and Cockle Bay at Darling Harbour, attracting many of the most recognised and respected boating manufacturers, suppliers and retailers. Whether you love the inland waterways of Australia or prefer the open waters off the coast, exhibitors at the 54th Sydney International Boat Show promise everything for the recreational marine enthusiast.
Major exhibitors who are already locked in to showcase the latest innovations on the water include Australian Superyachts, Clipper Motor Yachts, Cobalt of Australia, Collins Marine, Iliad Catamarans, Multihull Solutions, Short Marine, Sundance Marine, The Yacht Sales Co and Whitehaven.
Trailer boats, watersports and inflatable craft will have a prominent presence at the Show with the likes of Blakes Marine, Dunbier Marine, Hunts Marine, Insinc Marine, Marine Co, Nautique Central, Sirocco Marine, TR Marine, Watersports Marine and Webbe Marine.
The latest engines, marine technology, gear and gadgets from Boating & RV, Coursemaster Autopilots, Gineico Marine, Jn Taylor & Co, M.O.S.S. Australia, Navico, Raymarine, Twin Disc Pacific, Volvo Penta, and Yamaha will also be on display.
With the exhibitor deadline to book in for the event still weeks away, the show is shaping up to sell out all available exhibition space.
Always a popular exhibitor, Nautique Central will present the all-new GS range of Nautique boats at this year's show but is remaining tight-lipped about the anticipated launch of a new brand. "All will be revealed at the show," say Nautique Central's Michael Cranfield. However, feeding a passion for surfing is no longer confined to the coast. Discover how inland waterways turn into a surfer's paradise with endless waves thanks to the unique Nautique Surf System.
"The feeling of throwing the tow rope back to the boat and standing in the pocket for the first time is one that will stay with you forever," says Michael Cranfield, adding "Thanks to the advanced technology found aboard all Super Air Nautiques, the Nautique Surf System shapes long, perfectly formed waves at the touch of a button."
Also confirmed for the show this year is long time exhibitor, Webbe Marine. Their passion for aluminium powerboats has led them to represent two of the most prestigious brands, known for quality, innovation, offshore capability and most importantly, safety – Sailfish Catamarans and Stabicraft Boats.
On display for the first time at the show, the new Stabicraft 2250WT. This vessel has already won an international design award and is enjoying exceptional demand. It's the ultimate "beast" for hard-core adventurers with proven rough-water performance, strength and stability.
Stabicraft Boats come from the southern tip of New Zealand – a perfect place for honing boats that are built for use in some of the most demanding conditions in the world. They are engineered to be unmatched with their Life Ring Pontoon design providing a level of buoyancy and safety second to none in the trailer boat market.
Closer to home, Sailfish Catamarans hail from Alstonville in Northern NSW, and produce custom built plate aluminium power catamarans for their customers. "From any initial enquiry to when a customer collects their boat, be assured of being looked after by marine industry professionals with at least 20 years of individual experience," says Webbe's Gavan Daly. "This experience ensures that you get the advice and setup you have been looking for," he added.
With marine technology leading the charge in innovation, Coursemaster Autopilots will showcase KVH's new TracNet terminals which include integrated satellite, cellular and Wi-Fi signals all rolled into one. Using intelligent technology, this communication terminal automatically switches between systems to keep boats connected to the best available communication option depending on the location.
The product line actually features three different sized terminals and is the first to offer a fully integrated hybrid maritime solution of this type, utilising an algorithm that assesses factors such as availability, cost and quality of data connection to continually deliver the best performance. Perfect for when moored, underway or out at sea.
With almost 5 million people enjoying our waterways each year in Australia, the Sydney International Boat Show will feature plenty of boating and marine education, and entertainment as well. Fishing masterclasses, adventurer displays and on-water equipment demonstrations are just a few of the many activities included with an entry ticket.
Exhibitor applications for the 2023 Sydney International Boat Show are now available – boating businesses and services are urged not to miss out on the opportunity to get on board and be involved in one of the premier marine lifestyle events on the international boat show calendar.
To register as an exhibitor and sign up for the latest news, exclusive announcements, and updates on ticket sales, visit sydneyboatshow.com.au
The Sydney International Boat Show is presented by the Boating Industry Association (BIA) and Mulpha Events and proudly supported by Partner in Safety – Transport for NSW. For more information visit sydneyboatshow.com.au
– ENDS –
Media Contact
Tim Stackpool
media@sydneyboatshow.com.au
0419 244 443
SIBS-2023-Media-Release-Exhibitor-Announcement-FINAL.pdf – 184.70 KB