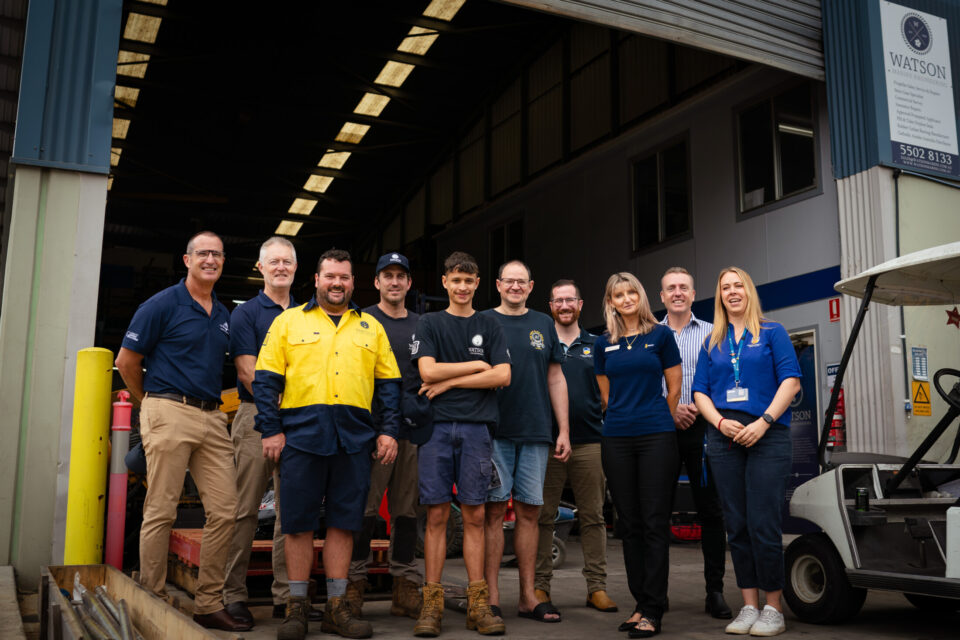 After just ten months, a significant milestone within the Boating Industry Academy has been achieved with 16-year-old Dominic being the first student to be signed-up to a school-based apprenticeship with Watson Marine Engineering.
In January 2023, the Australian Industry Trade College (AITC) in partnership with the Boating Industry Association Ltd (BIA) launched a Boating Industry Academy on the Gold Coast with a consortium of marine employers.
The Academy provides an industry-driven program for high school students wishing to pursue a career in the boating and marine industries, whilst completing Senior School. Students spend five weeks a term in school (at the AITC Robina campus) and up to 28 weeks a year at the Coomera Marine Precinct, the largest in the Southern Hemisphere.
With 23 students currently enrolled and a further intake of approximately 12 starting in February, the Academy is on its way to deliver a pipeline of young people keen to enter the marine workforce.
Having joined the Academy when it launched, Dominic is an enthusiastic and dedicated young person with a demonstrated passion for the boating industry. He will now embark on an exciting journey undertaking a school-based apprenticeship, allowing him to gain practical skills and knowledge while completing their high school education.
By offering apprenticeships in collaboration with industry leaders like Watsons, the Academy is bridging the gap between education and employment, ensuring that students are well-prepared for the demands of the boating industry.
Watsons have a respected and established presence in the boating industry, and their involvement highlights their commitment to fostering the next generation of talent in the field.
"We are thrilled to see Dominic signed up as a school-based apprentice in our Boating Industry Academy with Watsons," said Mark Bohan Principal of AITC Gold Coast School.
"This is a significant step towards nurturing talent in the boating industry and preparing Dominic for a bright future," Mark added.
Kelly Manttan Director of Watson Marine Engineering commented, "We believe in investing in young people and the future of the boating industry, and our partnership with the Australian Industry Trade College is a testament to our commitment.
"We are excited to work closely with Dominic and other students to provide them with valuable experience and knowledge in the field," Kelly added.
The boating and marine industries offer a range of career pathways, from boat building, cabinet making and upholstery, to welder, composite technician and engineer, and marine mechanic/ technician. The Australian Industry Trade College and the Boating Industry Association Ltd look forward to seeing more aspiring students join the Academy to pursue their passions and build a promising career in the boating industry.
BIA CEO Andrew Scott said that nurturing and creating pathways for young people was key for a thriving future in boating.
Scott said, "The BIA is committed to fostering workforce development. We collaborate with various stakeholders, to inspire and attract talent to pursue fulfilling careers in the boating sector. A skilled and passionate workforce is the cornerstone of our industry and the Academy at the AITC certainly helps build this future workforce."
The Australian Industry Trade College (AITC) is known for its commitment to preparing students for successful careers in a variety of industries, and the Boating Industry Academy is one of the latest additions to its portfolio of educational offerings.
For more information about the Australian Industry Trade College and its programs, please visit deliberatelydifferent.com.au.