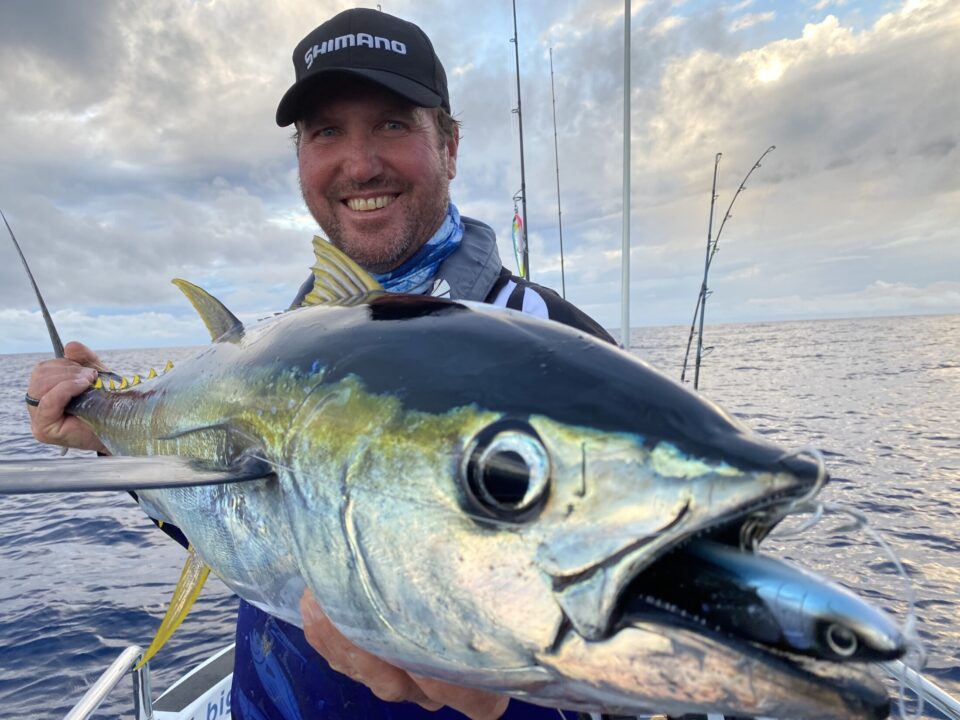 IMAGES RELEVANT TO THIS RELEASE HERE
For anglers who enjoy either the open waters off the coast or prefer our inland waterways, the 54th Sydney International Boat Show is Sydney's biggest boat and marine showcase, and is the place to choose the newest fishing accessories, including the latest in fishing tackle, fish finders, trolling engines, new gear and gadgets, and maybe even your next boat to go with all your new gear.
Learn how to fish like never before at the show's fishing masterclasses on the Suzuki Suzumar Main Stage, included with the cost of entry. A massive 60 per cent of people visiting the show express an interest in fishing. The fishing masterclasses reflect that interest, with presentations ranging from inland waterway fishing to the more adventurous offshore competitions, presenting videos, photos and stories to match.
Discover a jam-packed program by some of Australia's foremost fishing experts. Filled with educational fishing demonstrations and masterclasses, visitors are sure to walk away with plenty of hot tips for their next fishing trip.
The daily fishing line-up is hosted by Channel 7's Fishing, Boating and Coastal Weather Expert Paul Burt. 'Burty' has been fishing for as long as he can remember, and has appeared on various fishing and outdoor shows for the past 30 years along with his own popular TV show Step Outside with Paul Burt on 7Mate. Burty's fishing presentations are always popular, along with a few yarns he spins along the way. This year he's talking about 'deep water dropping' on the continental shelf. Learn the how and what to look for when targeting bass groper, bar cod, flame snapper and more using Shimano electric reels.  Paul said "It's great to be back this year, along with those who are arguably the greatest when it comes to sharing fishing experiences and their incredible skills. Our line-up of speakers are very gifted, both in their fishing prowess, and their ability to keep the audience enthralled. I know some visitors spend almost their entire day at the Show at the fishing stage. This is going to be great!"
Peter 'PJ' Johnson is a long-term member of the longest running radio fishing show 'Hi-Tide' heard every weekend. He's a former commercial snapper fisher and a very successful club angler with many titles and records to his name. PJ takes to the Suzuki Suzumar Main Stage at the Show presenting his talk on 'Snapper Secrets'.
Also on stage, Rhys Creed returns with his passion for landing the mighty Murray Cod. Rhys is a dedicated freshwater angler who has built his world around helping others to fish through his online platform, Social Fishing. This has taken him around the country, creating films, online content, as well as appearing on plenty of TV programs, proving to be a popular speaker on stage over the past decade. Hear Rhys share his secrets for 'Catching Murray Cod' during the Show.                                           
No expert fishing line-up would be complete without the inclusion of the legendary Tim Simpson. From catching huge mako sharks and swordfish from trailer boats to 500-kilogram tuna and marlin, Tim has done it all. At last count, he's amassed at least seven World Records. Tim delights in sharing the skills he's developed and will be on stage showcasing his topic 'Targeting Gamefish'. 
Join Justin Duggan at the Show too, as he presents tips on fishing close to home. As well as being the owner and operator of Sydney Flyfishing Tours, Justin is an accomplished professional fishing guide and knows the east coast like no other. Justin will be on stage showcasing his topic on 'Fishing Sydney Harbour,' a must for any local anglers who want to learn about the best and sometimes secret locations to land the finest catch on the harbour.
If catching Australian Bass is proving challenging, the Show presents the 'Voodoo Fisherman' himself Leroy Horton. Renowned for understanding the 'hoodoo behind the gills", Leroy uncovers those elusive techniques used by the pros to end those tales of "the one that got away." From rod types to setting reel drag and more, Leroy will certainly deliver tricks to put the most pressure on the fish while putting the least strain on you and your tackle.
When it comes to using lures, Greg Reid provides his expertise on the most effective and durable lures to use in Australia. He's also switched onto the latest tech and gadgets enjoyed by both recreational and professional anglers right around the world. Greg's presentation at the Show 'Surface Fishing for Flatties" outlines the methods for perfecting one of the most popular types of fishing in shallow waters around Australia.
Boat Show Ambassador, Rugby League legend and presenter of his own show "Escape – Fishing with ET", Sydney local Andrew "ET" Ettingshausen now spends most of his time with a rod in the water. Each week ET's TV viewers are transported to some of the most exciting and exotic locations in Australia, chasing down spectacular catches on his action-packed fishing adventures. ET will be bringing all that action and excitement as he embarks upon the 2023 Sydney International Boat Show – and it's safe to say he's got some stories to tell as he hits the Suzuki Suzumar Main Stage for a one-on-one chat with Paul Burt at 1.30pm on Saturday and Sunday. You can also meet ET at the Escape Fishing with ET Hub on the Marina Foreshore every day of the show.
Whether a fishing enthusiast or just mildly curious, visitors will also enjoy the all-new Shimano Fishing Tank Show presented by Australian fishing expert, Dave "Mossy" Moss. With his vast knowledge and enthusiasm for fishing, Mossy enthrals with his highly entertaining presentation featuring his best tips and tricks for catching that prize fish. It's sure to be a crowd pleaser for both kids and adults alike. Plus, there's over $1000 worth of great prizes being given away after every fishing tank show, thanks to Shimano, Lowrance and Gamakatsu.
The Shimano Supertank is also hosting Underwater Australasia and their QYSEA FiFish V-EVO underwater drone demonstration. Watch as this incredible machine capable of diving down to 100 metres, motors through the tank showcasing its diversity and skill.
For visitors wanting to learn more about successfully seeking Murray Cod, Bream and even Marlin using electronics, the Garmin presentation showcases their latest products and how to correctly use technology to locate that next prized catch. Watch too for the Garmin Force Kraken, the most powerful trolling motor the recreational fishing market has yet seen. Coupled with Garmin's most precise anchor lock technology, Kraken is designed with longer shaft lengths and a pivot-style mount for easy installation on boats where bow space is limited. "We are excited to build on the success of our Force trolling motor and bring new mounting options and features to even more anglers in both the saltwater and inland markets. From power and durability to integration and innovation, Kraken has everything anglers want and need from their trolling motor and more," said Dan Bartel, Garmin's vice president of global consumer sales.
The Suzuki Suzumar Main Stage wouldn't be complete without Suzuki Marine speaking about their Clean Ocean Project. Some Suzuki outboard engines actually help clean the ocean whilst powering around. This is achieved by capturing micro plastics in specially designed filters. Hear all about this and other exciting projects at the Show.
Andrew Fielding, President of the Boating Industry Association (BIA), said fishing is a major part of the Australian lifestyle of enjoying the outdoors with friends and family. "The Sydney International Boat Show brings together leading dealers and manufacturers from across Australia and beyond, ready to present the latest in fishing, boating and marine technology," he said. "This is the show where all your questions about spending more time on the water and catching bigger and better fish can be answered."
While many anglers enjoy dropping in a line from the shore, others take to the water in some of the most advanced and cost-effective fishing vessels available. Boat Show regulars TR Marine will debut the new Australian built R760 Offshore Hardtop, fresh off the factory floor, along with a great variety of specialist fishing vessels.
Short Marine return to the show, proudly displaying the impressive Viking 46 Billfish. It demonstrates sporty style and forward-thinking practicality, presenting as a game-changing mid-size sportfisher. Offering simplicity and ease of maintenance, the boat is a ready-to-go fishing machine equipped for inshore and offshore missions as well as a comfortable cruising boat with reliable inboard diesel power.
Hunts Marine present the latest Cruise Craft Explorer 695 Hardtop, a versatile and reliable vessel designed to provide the ultimate fishing experience for anglers of all levels. The spacious deck provides ample room for fishing, while the comfortable seating and large cabin area make for an enjoyable and convenient experience.
Insinc Marine features the Baysport 605 Offshore, presenting the features that you need for an enjoyable day on the water. Built into the 605's transom is a live bait tank and under the front passenger seat there's plenty of room to stow the catch. Walk-around side decks give easy access to the bow which can also be accessed by the large cabin hatch. A rear door gives effortless access to the spacious cockpit and makes it easier to bring large fish onboard.    
At the Blakes Marine stand, the Stacer 449 Crossfire, designed as a serious fishing platform that can be converted into a family day cruiser. The 449 Crossfire can take up to a 75HP engine and boasts 5-person capacity. This vessel has no issues fishing the harbour or close offshore reefs. There's also the versatility of converting the forward casting platform into a cushioned bow rider for when the family is on board.
If keeping your craft stable whilst fishing is proving to be a challenge, Seakeeper Ride offers unrivalled performance in controlling pitch, roll, and yaw. Premiering at the Show, Seakeeper Ride harnesses custom proprietary inertial sensing hardware and software to actively counteract boat roll and pitch and improve onboard stability. Its compact footprint, simple installation, and low power consumption make it an ideal choice for boat owners seeking a reliable, energy-efficient stabilisation system. By delivering a smoother ride and reducing fatigue, Seakeeper Ride opens up new possibilities for extended cruising, fishing, and watersports activities. The Show presents extraordinary diversity and choice when it comes to fishing boats, whether the preference is for a trailer boat, mooring or dock storage. Choose from the extensive range of dedicated fishing vessels, a runabout, or perhaps decide on a family friendly bowrider offering the option of heading out for a day of angling, or just cruising with family and friends, or both!
Another popular option is fishing from a kayak, pedalboard or paddle board. The extensive range from Show favourites Hobie is particularly suited to seeking out those quiet spots in rivers or estuaries that large craft can't access.
The Department of Primary Industries can also be found at the Boating Safety Zone presented by Transport for New South Wales, the Show's Partner in Safety. At this zone, you can learn about the regulations governing fishing across NSW, as well as the ways you can assist in keeping our waterways safe and sustainable.
The Sydney International Boat Show takes place from 3 to 6 August at the International Convention Centre Sydney, and on the adjacent marina on Cockle Bay. The show is open 10AM – 7PM Thursday to Saturday, and 10AM to 5PM on Sunday. Tickets, now available, can be purchased online only – there will not be a box office at the Show. One-day early bird tickets are available now until 26 July from $25 (Children under 16 years of age are admitted free with a paying adult). Early bird ticket purchasers also have the chance to win $10,000 in 'Boat Show Dollars' to spend with an exhibitor at the show.
The Sydney International Boat Show is presented by the Boating Industry Association Ltd (BIA) and Mulpha Events, and proudly supported by Partner in Safety – Transport for NSW, along with official event partners National Storage and Walcon Marine.
For more visit sydneyboatshow.com.au
– ENDS –
IMAGES RELEVANT TO THIS RELEASE HERE
Media Contact
Tim Stackpool 
media@sydneyboatshow.com.au
0419 244 443  
CLICK HERE TO ACCESS GENERAL EXHIBITOR IMAGE & VIDEO LIBRARY