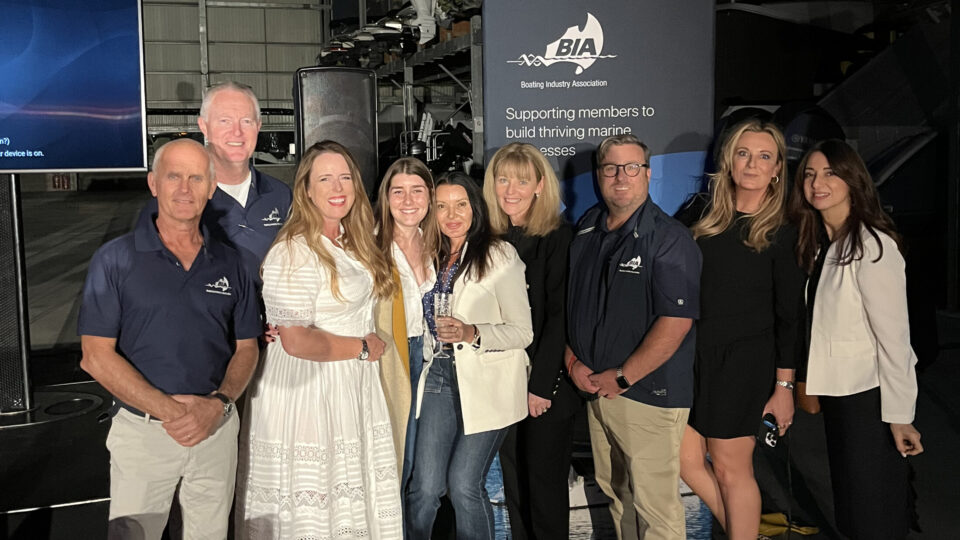 The previous eNews CEO column focused on our commitment to members, under Industry Programs, Products and Services. This is a key part of our key priorities. Today's eNews will continue with our membership deliverables, this time with a focus on brokerage; our Marine Broker Division and network is a key part of the industry driving vessel sales throughout Australia and the chain of networks that support this important sector.
However, as a wrap-up for the last fortnight, we have delivered our first of many Divisional meetings. The Women in Boating Committee held a meeting on Friday 22 September headed by Chair Tracy Souris, Marina Manager, Sydney Boathouse. The agenda focused on key deliverables from the Women in Boating Committee, including; revised committee, meetings timetable and structure, Marine Jobs and campaigning for training, and attraction of resources into our industry, and a general overview of the BIA, including the Diversity in Boating Forum held in the Sydney Boathouse on 28 September. Key-note speakers were received well, Nicole Watts Director Transport for NSW, and Nicky Vaux Director Empire Marinas. A panel discussion was held, with Nicole and Nicky, including two other BIA Members, Jessica Gatt of Logix Group and Lily Peel of Hullbot. It was a fantastic overview and positive starting point for our renewed commitment to diversity in our industry.
Thank you to all speakers, panel members and attendees for attending, very well attended.
Returning to Marine Brokers, I'd like to introduce the next phase of our Membership Divisions with the forming of a national Marine Broker Division. We are bringing together State-based Broker Divisions to support the sector across all States, with delivery via re-energised Sate-based chapters. We will be initiating a new program of regular meetings, starting later this month, to review topical issues among brokers will a focus on the design and delivery our new Brokerage Accreditation program in November 2023. The Chair and members will drive the agendas. BIA will soon advise of the regular dates for meetings well into 2024.
The Marine Broker Division supports and promotes the interests of marine brokers, including individual brokers and brokers' businesses, and Division members are provided with an industry-standard set of broker documentation, backed up with legal advice to ensure brokers are delivering the best advice and assistance to their clients.
The new accreditation program will provide participating members with credentials to promote their business and demonstrate to the boating community they meet industry standards of professional conduct and expertise in their sector. The program will promote ethical and transparent business practices, ensure compliance with relevant regulations and standards, and foster a culture of continuous improvement and excellence in the marine brokerage profession, based on compliance with industry best-practice processes including, but not limited to:
Use of BIA standard broker documentation
Use of client-fund accounts
Holding any required State Government issued dealer licence
Reporting of disputes and participation in resolution
Making a declaration of compliance and participating in periodic audits
Attend periodic boat broker division meetings to maintain currency with evolving requirements
Membership of the Marine Broker Division is open to any member whose business includes sale of second-hand vessels, usually focused on non-trailerable vessels. Participation in the accreditation program will be rolled out across the Division membership over the course of six months, with a sign-on and then annual renewal fee payable. The program will be supported by a dedicated promotional campaign featuring only accredited members, designed to educate the boating community of the importance of working with a BIA Accredited Marine Broker.
The BIA is also to work with governments across the nation to promote to the public the value of using accredited brokers in support of Responsible Boat Ownership.
Marine Jobs, forthcoming events to note please…
Boating Industry Academy evening with Training and Education Delivery Partner, Australian Industry Trade College (AITC), 12 October 2023 starting 04.30pm at Gold Coast City Marina
Gold Coast Marine Careers Open Day, Saturday 21 Oct 2023, Marine Precinct – Coomera, 09.00am to 02.00pm
Andrew Scott
CEO
Main photo above: L-R, Neil Patchett, Andrew Scott, Nicky Vaux, Mary Tuka, Maria Page, Shane Wilson, Tracy Souris.