Advocacy again (or simply engaging with Government) sits at the forefront of our community and member focus, as our Team's work is significant. Our Membership Services Manager in South Australia, George Bolton is working tirelessly with the SA Government, to encourage them to put in place grants and necessary financial support for our distressed River Murray community.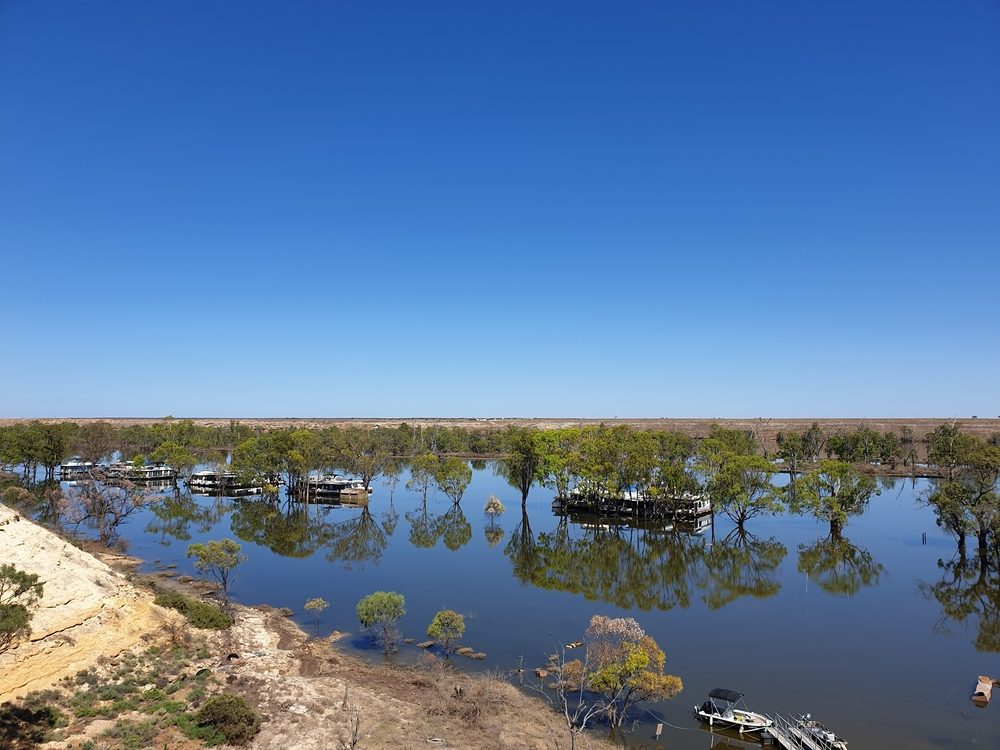 The Murray River raised a few metres above 'normal' heights in December 2022 and is only just receding. As a result, the community is facing what may be a long road to recovery. Image courtesy of Grifffens Marina.
The clean-up of riverbanks, marinas, offices, workshops, storage facilities and much more, is now underway. There are, however, limitations with reports of local road and bridge infrastructure damaged for day to day operations. Reconnection of electricity, fuel and waste services is slowly in progress and certain to take time to return to normal.
Submerged debris is a major problem and safety is paramount for people and vessels. Each boating business will make a decision as to when they can re-commence hiring operations, noting, they have had no income since October – November 2022. There is also the need to check on missing kilometre markers and misplaced navigational directional signage along the river.
The BIA and the Houseboat Hirers Division (HHD) have been busy during the flood visiting and contacting major member operators and advocating on their behalf to the SA Government, seeking grant funding for affected operators. The BIA sought clarity of the Small Business Flood Recovery Grant Program ($50K) for flood effected employers, being able to pay their employees to help assist in the clean-up and reinstatement of infrastructure including plant. This has now been agreed upon.
BIA continued its advocacy effort to support the sector and the SA Government has announced the "Rise Up For Our River" campaign of River Revival Vouchers being released this year, with an additional houseboat voucher being introduced in the third and fourth quarters of this year.
For members and operators to participate, you will have to register through an Expression of Interest at the appropriate time, and be listed on the Australian Tourism Data Warehouse which is free.
The BIA / HHD has representation on the River Murray Community Recovery Committee and the SA Tourism Commission (SATC) Murray River Tourism Recovery Working Group. For more information please contact George Bolton on george@bia.org.au, or refer to SA State Government web sites.
It is certainly a tough time along the flood affected Murray and I know you will join me when I say: The BIA is here for its members and will do what it can to assist those impacted by what was one of the worst flooding events in recent history.
Andrew Scott
CEO