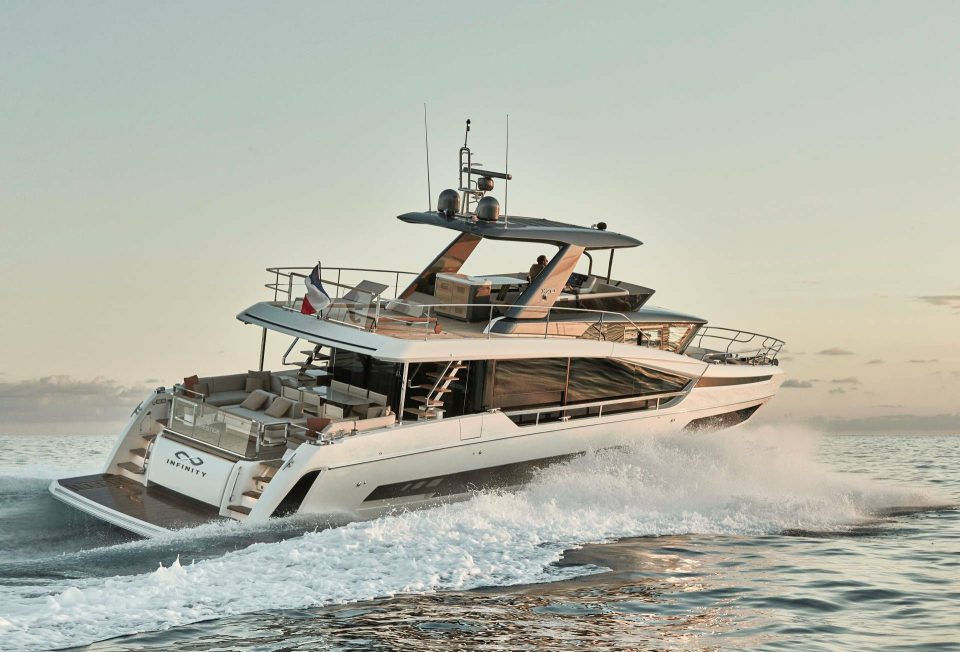 CLICK HERE TO ACCESS IMAGE & VIDEO LIBRARY
More unique and innovative exhibitors are confirmed for Australia's premier recreational boating lifestyle event, set to run from the 3 to 6 August 2023 at the International Convention Centre and Cockle Bay in Darling Harbour.
So far more than 1000 boating and marine brands displayed by more than 250 exhibitors from across the globe are expected to descend on the ICC and purpose-built marina. Exhibitors from both government and industry will thrill visitors with a love of fishing, water skiing, wake boarding, sailing, luxury cruising or just paddling around Australia's splendid waterways. The 2023 Sydney International Boat Show has something for every water-loving Aussie.
The roster of boat show favourites continues with names like: Boating & RV, Chapman Marine Group, Dockpro, eYachts, Fleming Yachts, GRE Marine, Mercury Marine, PowerDive, Pantaenius, and TMG Yachts joining a spectacular and highly anticipated lineup of exhibitors at this year's Show.
Never shy of developing innovation for recreational marine activities, long standing Sydney International Boat Show exhibitor Yamaha is introducing its latest outboard models, which sees the further expansion of industry-leading fully integrated boat control power systems. The new F150, F175, and F200 models now come with state-of-the-art integrated hydraulic and integrated electro-hydraulic steering options. These and the all-new big horsepower XTO 450 and electric HARMO outboards will be on display.
Always one of the most unique vessels at the Show, Sealegs International returns having again redefined the amphibious boating market with the release of their latest offering, the Sealegs 3.8T, their electric tender. The 3.8T is set to revolutionise the way tenders are considered. Sealegs' Nicholas Glanfield, Global Sales and Marketing Manager said, "with ease of use and versatility, be it transferring from the main craft to a secluded beach or simply back to the ramp, the 3.8T heralds a new era in flexible tendering". Equipped with a number of clever features, the 3.8T makes for the ideal watercraft given its spacious storage compartments, comfortable seating, and state-of-the-art navigation and safety systems.
For even more intrepid boating, SWS Pacific will showcase the latest Schenker Watermakers. A Schenker Watermaker allows boaters, whether in a yacht, a sailboat or any other vessel, to extend their cruising duration and increase independency from shore, enjoying more time at sea. "Our watermakers are the most energy efficient units on the market and can be powered directly from the vessel's service batteries. Making water is as simple as pressing the start button and the units have automatic and periodic flushing. Schenker's three-year warranty is backed up by our international network of sales and service representatives", says SWS Pacific's John Nell. "Installation is easy with most of our units installed by the boat owner," he said.
With almost 5 million people enjoying our waterways each year in Australia, the show will also feature plenty of education and entertainment, all included with the entry ticket.
For the boating enthusiast, there's no better place to check, examine and compare products from leading brands available in the Australian boating industry today. For exhibitors, this is the premier opportunity to engage with members of the public who are ready to indulge in their passion for Australia's most enjoyable waterways.
Exhibitor applications for the 2023 Sydney International Boat Show still remain available – boating businesses and services are urged not to miss out on the opportunity to join with industry colleagues and be involved with one of the premier marine lifestyle events on the international boat show calendar.
To register as an exhibitor and sign up for the latest news, exclusive announcements, and updates on ticket sales, visit sydneyboatshow.com.au
The Sydney International Boat Show is presented by the Boating Industry Association (BIA) and Mulpha Events and proudly supported by Partner in Safety – Transport for NSW. For more information visit sydneyboatshow.com.au
– ENDS –
Media Contact
Tim Stackpool
media@sydneyboatshow.com.au
0419 244 443
Schenker_Zen_Model.png – 357.67 KB
Sealegs-3.8T.jpg – 1.24 MB
Yamaha-F200.jpg – 69.53 KB
Media-Release_2023-Sydney-Boat-Show-Innovative-Exhibitors.pdf – 196.41 KB