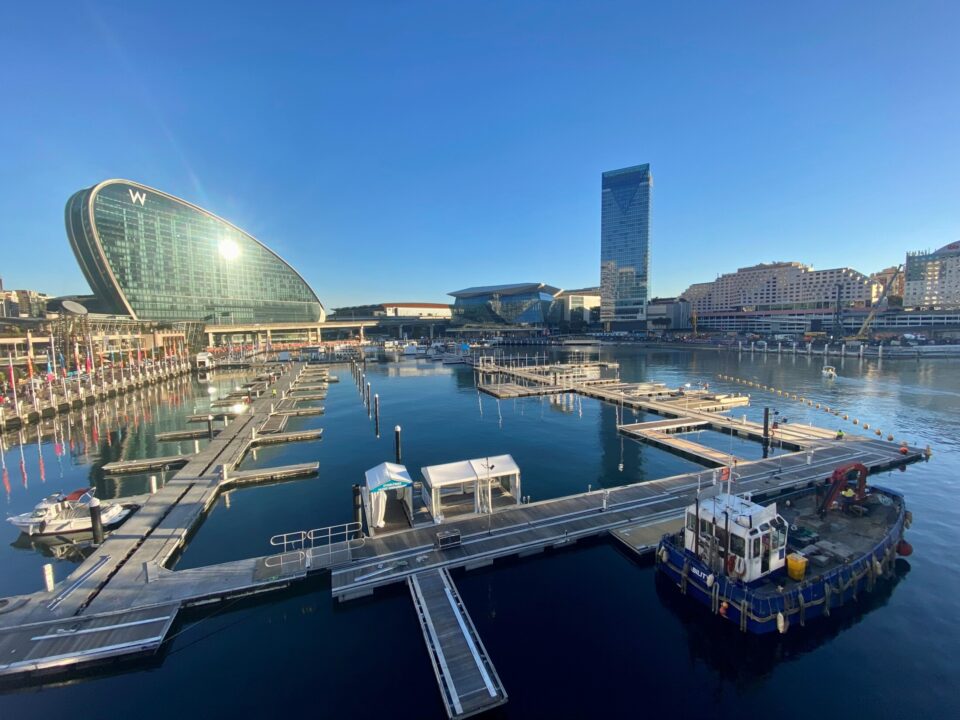 The 54th Sydney International Boat Show opens next week and our primary focus is on the promotion of recreational boating, as well as maintaining our efforts across other key industry initiatives and programs, including boating safety, safe marine business along with skills and jobs.
Both the halls and the marina have reached capacity, with the marina exceeding the 2019 levels of 'on water' vessels, it's going to be exciting! Our event delivery team is already stationed on site in Darling Harbour and are finalising the Show-marina build in Cockle Bay and the ICC components, with the bump-in starting this weekend.
Online tickets sales are making strong progress, as part of our pre-show and advance ticket campaigns. Please continue to communicate to your own databases of clients and encourage the take up of online ticket purchasing which is the main mode of sale this year. We will have ticketing staff in-field, at entrance gates and at reception desks in the ICC, to ensure buying tickets will be a seamless process for visitors, with help on-site as needed; same too for taking site payment as required.
Thanks to the many Exhibitors that are using the campaign tag line 'All Aboard' and 'We're on Board' across their own channels, this is indeed very welcomed. The more we all showcase the event through our channels, the greater the opportunity to drive highly engaged and motivated attendees to the Show. We encourage use of our registered names, the primary name being 'Sydney International Boat Show'. Please keep up with the support, and promote your presence at the show with our Exhibitor Marketing Kit. Please see here a link to a folder containing the official Exhibitor Marketing Toolkit, comprising a full suite of assets, logos and graphics to help you market your presence at the Show. If you need assistance reach out to Kim Fox of BIA on kim@bia.org.au or our Event Delivery Team Mulpha.
The advertising campaign for the Show is 'all systems go' and spans traditional, and digital media. This campaign is aimed at attracting existing and new boat enthusiasts to come along to the event and to enjoy this special opportunity to check out all the new boats, equipment and accessories. The Show advertising is running on radio, TV, newspapers, digital online, social media, static and electronic billboards across the city, buses and bus stops and more.
Our Show activations are set, including;
Discover Sailing and Paddle Hub, with Nic Douglass taking the lead at the live site and a range of speakers
Suzuki Suzumar Main Stage will be 'fishing central' with presenters such as Channel 7's Fishing, Boating and Weather Expert, Paul Burt, you'll hear from Peter 'PJ' Johnson, Rhys Creed, Tim Simpson, Justin Duggan, Leroy Horton, Greg Reid, and Andrew 'ET' Ettingshausen
Boating Safety Zone, delivered in partnership with Transport for NSW and featuring a range of boating and fishing related safety, education and training organisations.
Awards and Functions, including Schools and Skills
Official Opening Function, Friday morning with the NSW Minister for boating, including presentation of the Sustainability and Apprentice Awards
TAFE NSW Awards on the Suzuki Suzumar Main Stage – Graduation of Marine Mechanics and Shipwrights
Women in Boating networking event on the Marina
Marine Jobs display (Consortium of Marina Industries Association, Australian International Marine Export Group/ Superyacht Australia and BIA Ltd)
Schools and Careers Days
Exhibitor / Display and Stand Awards
BIA Members Business Lounge
Tickets are on sale to the public and members and exhibitor tickets have been issued.
Get on board! We look forward to seeing you all at our Sydney International Boat Show 2023!
Regards
Andrew Scott
CEO