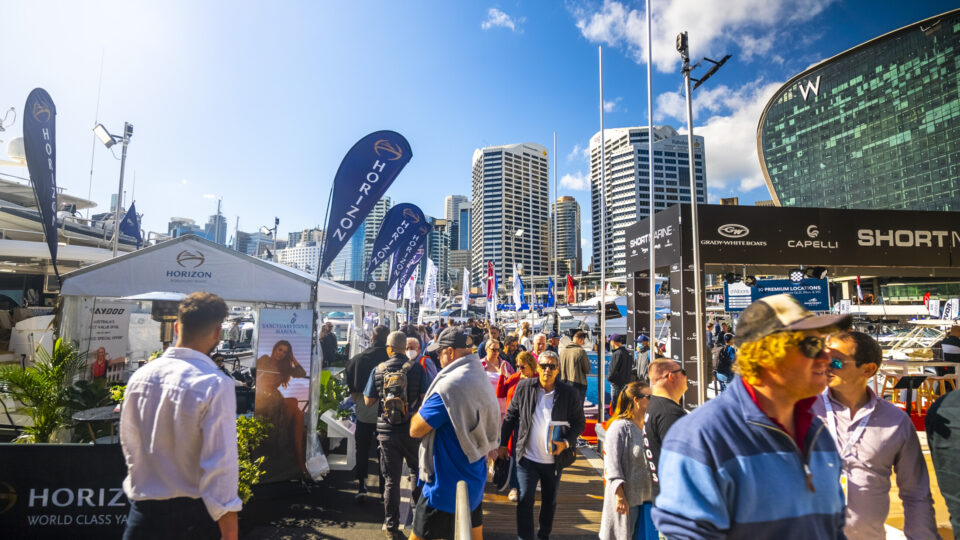 The 54th Sydney International Boat Show opens tomorrow (Thursday 3 August) at ICC Sydney and Cockle Bay at Darling Harbour, with doors open from 10AM.
Recognised as one of the world's leading boat shows, the Sydney event opens tomorrow and continues through the weekend with a comprehensive and diverse recreational marine exhibition, featuring 600 vessels and thousands of marine products, filling the exhibition halls at the ICC Sydney, the custom-built marina at Cockle Bay and surrounding foreshore, and presenting everything for the boating lover in one iconic location, covering cruising, sailing, ski and wakeboarding, kayaking, snorkeling, fishing and more.
Over 200 marine businesses from across Australia and beyond have converged on Darling Harbour alongside government agencies, offering visitors the chance to view and compare hundreds of the latest products, learn about the features of various watercraft, and hear about the regulations and safeguards in place to protect our state's waterways.
A clear indication that the industry has bounced back, the show will host over 65 global, Asia-Pacific and Australian new product launches and the marina alone will showcase more than 215 boats, a significant increase on the number of on-water vessels presented at the pre-COVID 2019 Show.
Over 400 major global marine brands including Aquila, Azimut, Bavaria, Beneteau, Boston Whaler, Dufour, Elan, Grady White, Gulf Craft, Horizon, ILIAD Catamarans, Integrity, Lagoon Catamarans, Palm Beach, Princess, RAND, Seakeeper, SeaRay, Sunseeker, Tofinou, and hundreds more grace the marina, along with Chapman Marine, who are presenting their biggest display in 30 years, with vessels ranging from $145,000, up to $1 million.
Within the halls, brand include Bar Crusher, BRIG, Dometic, Dunbier, Fliteboard, Garmin, Highfield, Hobie, Lawrance, Mastercraft, Malibu, Mercury, Nautique, Quintrex, Sea-Doo, Stabicraft, Surtees, Suzuki, Yamaha, Volvo Penta and hundreds more, including Sea Legs, the boat you can drive out of the water.
The whole family will enjoy the all-new Discover Sailing and Paddling Hub and Stage which offer visitors everything needed for a great day out on the water, powered either by sail, or by yourself, with expert advice and insights from some of Australia's foremost sailing and paddling experts including three time Olympic medallist Mathew Belcher, while the Suzuki Suzumar Main Stage hosts the famous Boat Show Fishing Masterclasses, where anglers of all levels can learn all the tips and tricks for landing 'the big one' from some of Australia's leading fishing experts including show Ambassador Andrew 'ET' Ettingshausen.
There are also thousands of dollars in prizes to be won at the Show, including a Hobie Heritage Stand-Up Paddle Board valued at $1299 being given away every day of the show at the Discover Sailing and Paddle Hub.
Andrew Fielding, President of the Boating Industry Association Ltd who organise the event, said there's no shortage of opportunities to enjoy Australia's coastal or inland waterways. "The Sydney International Boat Show again responds to the tremendous enthusiasm Australian's have for spending time in and around the water. With hundreds of boats on display, and all the gear to go along with them, this special event showcases the many ways individuals and families can get out on the water" he said.
Up to five million Australians enjoy recreational time on or around the water each year, and Australia's boating and marine facilities are considered world class. Well-equipped marinas can be found locally and in regional coastal centres, so there's high-quality infrastructure in place for boaters of all persuasions. Australia is fast becoming a well-established first-choice destination for cruising, long-range fishing or inshore water sports with local and international visitors.
Whatever form or style of boating and marine activity meets your needs, the Sydney International Boat Show presents the extensive range of marine equipment available in this country today. Transport for NSW, the show's Partner in Safety, presents the Boating Safety Zone with plenty of information on how to remain safe and have an even better day out on the water.
The Show's very own smartphone app is an easy way to ensure visitors find all the boats and brands on their wish list. Using the app, visitors can take a sneak peek at the exciting brands premiering at the show, view the What's-On Guide, see the schedule for on-stage talks, download the show maps and access the Exhibitor Directory with details of what boat or brand to find where. To access the app, search for "The Event App" from the app store and enter the event code: sibs23
The Sydney International Boat Show takes place from Thursday 3 to Sunday 6 August at the International Convention Centre Sydney, and on the adjacent marina on Cockle Bay in Darling Harbour. The show is open 10AM to 7PM Thursday to Saturday, and 10AM to 5PM on Sunday. Tickets, now available, can be purchased online only – there will not be a box office at the Show. Adult one-day tickets are $32.50 each. Children under 16 years of age are admitted free with a paying adult.
The Sydney International Boat Show is presented by the Boating Industry Association Ltd (BIA) and Mulpha Events, and proudly supported by Partner in Safety – Transport for NSW, along with official event partners National Storage and Walcon Marine.
For more visit sydneyboatshow.com.au  
– ENDS –
Media Contacts
Tim Stackpool
Kara Roberts
media@sydneyboatshow.com.au
Tim: 0419 244 443
Kara: 0412 100 550
CLICK HERE TO ACCESS GENERAL EXHIBITOR IMAGE & VIDEO LIBRARY