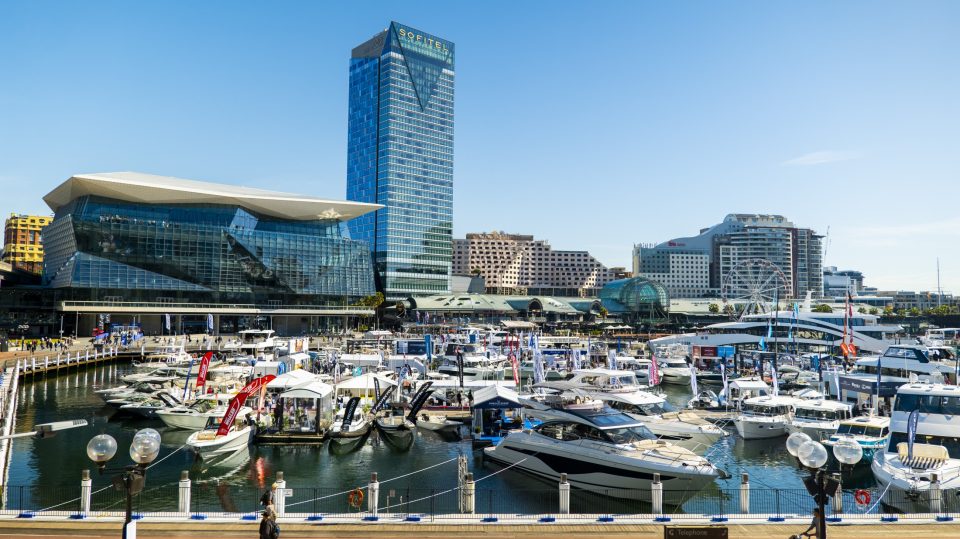 CLICK HERE TO ACCESS IMAGE & VIDEO LIBRARY
Tickets are now on sale for the 54th Sydney International Boat Show set to run from 3-6 August at the International Convention Centre, Sydney and the adjoining purpose-built marina on Cockle Bay at Darling Harbour.
To purchase tickets, visit sydneyboatshow.com.au and click on the 'Buy Tickets' button or visit Oztix.
One-day early bird tickets are $25 + booking fee (early bird runs until midnight on 26 July). Early bird ticket purchasers have the chance to win $10,000 'Boat Show Dollars' to spend with an exhibitor at the show. Children under 16 years of age are admitted free with a paying adult.
Whether you're boating and fishing on Australia's inland waterways or prefer the open waters off the coast, the Sydney International Boat Show promises everything for the avid boatie, fisher or sailor, with new vessels, new tackle and loads of technology designed to make your adventure on the water even more enjoyable.
The ticket gives entry to the exhibition in the International Convention Centre, the popular Fishing Masterclasses hosted by media personality and boating and fishing expert – Paul Burt, the Boating Safety Zone presented by the Show's Partner in Safety – Transport for NSW, on-water displays at Cockle Bay, and the special sustainable sailing and paddling hub featuring one-on-one interviews with sailing and paddling identities hosted by the Sailor Girl herself, Nic Douglass.
The Sydney International Boat Show presents a comprehensive range of boats assembled in one location. Whether you love the humble tinny or kayak, the latest design in popular trailer boats and fishing vessels, or the most luxurious of ocean-going yachts and power cruisers, the show is the one place to find the latest gear and a tantalising range of vessels available today and special offers.
For those who particularly love fishing, learn how to fish like never before at the show's fishing masterclasses, included with the cost of entry. A massive 60 per cent of people visiting the show express an interest in fishing. The fishing masterclasses reflect that interest, with presentations ranging from inland waterway fishing to the more adventurous offshore competitions, presenting videos, photos and stories to match. You might even get the chance to chat one-on-one with Show Ambassador, Rugby League great and fishing legend, Andrew 'ET' Ettingshausen.
Tickets are only available online, there will not be a box office at the Show.
If you want guidance and deals from industry leaders, and a range of boats, fishing gear and boating accessories at the one big show, be sure not to miss this year's Sydney International Boat Show. Visit sydneyboatshow.com.au for more details.
Exhibitor space for the 2023 Sydney International Boat Show is also selling fast – boating businesses and services are urged not to miss out on the opportunity to join with industry colleagues and be involved with this internationally renowned boat show. To register as an exhibitor, visit sydneyboatshow.com.au.
The Sydney International Boat Show is presented by the Boating Industry Association Ltd (BIA) and Mulpha Events, and proudly supported by Partner in Safety – Transport for NSW, along with official event partners National Storage and Walcon Marine.
For more information visit sydneyboatshow.com.au
– ENDS –
Interview opportunities are available from the Boating Industry Association via the contact below.
Media Contact
Tim Stackpool
media@sydneyboatshow.com.au
0419 244 443
Sydney-Boat-Show-image-2022-Cockle-Bay.jpg – 806.39 KB
Sydney-Boat-Show-image-2022-Exhbition-Hall.jpg – 807.53 KB
MEDIA-RELEASE_SYDNEY-BOAT-SHOW-Tickets-on-Sale.pdf – 632.76 KB